For over 30 years Computer Network Systems Limited (CNS) has delivered Digital Transformation across both the public and private sectors for clients around the world. As a CMMi Level 5 certified company, holding ISO 27001, ISO 9001, and ISO 45001 accreditation, CNS operates to the highest international standards across our domains and maintains an excellent track record of delivery. Furthermore, building upon extensive public sector projects CNS has developed over 20 off-the-shelf products including Enterprise Resource Planning (ERP) Solution, Human Resources Management Systems (HRMS) and Inventory Management Systems (IMS).
Now, with the opening of The CNS Tower, a 14-floor state-of-the-art purpose-built facility, which serves as the central nexus for our software delivery, CNS is excited to announce the expansion of our service offering into Software Outsourcing and other Business Process Outsourcing (BPO) areas.
We seek to leverage the extraordinary software development of The CNS Tower, combining it with our multi-decade experience of developing large scale software solutions for the Public Sector to deliver high quality, professionally managed Software Outsourcing and BPO to our clients. During Public Sector projects ensuring value for money is critical to ensure the taxpayer gets a fair deal. As such CNS will hone our expertise for delivering Public Sector Digital Transformation on-budget to ensure that not only will we be delivering quality software to our outsourcing customers, but that we are doing so at highly cost-effective rates.
In order to ensure the 24/7 365 days, support that CNS is known for we have further established an onshore relationship office in Toronto, Canada. This office will provide onshore and nearshore support to clients, including the options to host in person event and meetings as well as provide staff to carry out on-site requirements studies at client locations. This will be in addition to the existing 24-hour support desk in Dhaka to ensure the maximum level service delivery and client support. With over 750 members of staff delivering software on a global scale across more than 20 Technology Stacks and IT Domains CNS is here to deliver your Digital Transformation today.
The CNS Tower is not only our, but your, Global Development Centre; a state-of the-art location providing industry leading solutions, on-time and at competitive rates.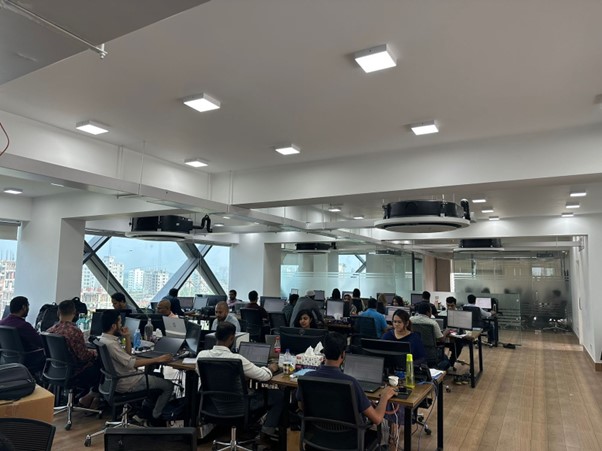 CNS Engineers hard at work to deliver Digital Transformation to our clients around the world.